The matter of a small wood stove for a "hunter's tent" came up in the thread:
35 miles of day hikes in Olympic National Park...
TiGoat Cylinder Stove
and
TiGoat Vortex Stove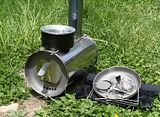 I did ask the builder:
1. Is the titanium so that it will not "burn out" the way a steel drum will burn right thru the metal?
A> Yes, we have never had a stove bottom burn out... yet.
2. Is your stove air-tight, so the fire can be dampered down and kept all night long?
A> No, not air tight. But you can damp it back and get 1.5 - 2Hrs burn time.
This wood stove is interesting to me because of its design and total weight: 1 lb. 11 oz.
New 2010 C-Stove:
Weight:
- 13oz - stove body & parts
- 3.8oz - wrap, bag, platform
- 9.8oz - 7' Ti pipe
Complete:
- 1lb 11oz with 7' Ti pipe
Size:
- 12" long x 7.5" diameter
- approximately 530 cubic inches
Here are the Small and Large Vortex wood stove specifications:
Small Stove:
Dimensions: 6"x 7"x 10" fire box, 11" tall when assembled, with 6.5'
stove pipe. Fire box takes down to 1"x 7"x 10" with the pipe rolling up to
2" diameter, 12" long. Comes with 6.5' pipe for use in the Vertex 6.5.
Weight: 2lbs, 14oz with stainless pipe. 2lbs, 8.5oz with titanium pipe
Large stove:
Dimensions: 7"x 8.5"x 15" fire box, 11" tall when assembled, with 8'
stove pipe. Fire box takes down to 1"x 8.5"x 15" with the pipe rolling up
to 2" diameter, 12" long. Comes with 8' pipe for use in the Vertex 8.
Weight: 4lbs, 2oz with stainless pipe. 3lbs, 7oz with titanium pipe.
In Montana, I have seen "hunter's tents" utilizing a wood stove and "stove jack" with rain flap.
I have seen wood stoves and tipi's advertised together, first, for me, at
Kifaru
.
Kifaru
,
Ti-Goat
,
Tentipi
and the
Wyominglostandfound
tipi pictured here are sold with "stove jacks" installed or will install the stovepipe port and rainflap.
More tipis for backpackers are being offered, in addition to the Black Diamond Megamid and BetaMid Tents: MLD
Mountain Laurel Designs
DuoMid, SOLOMID, SPEEDMID, SUPERMID 2010, and TrailStar Shelter.
Go-Lite
has their Shangri-La 3 and Shangri-La 5.
Neither Mountain Laurel Designs nor Go-Lite is showing their "tipi" like designs with wood stoves.
Kifaru has their
Shelter Accessories: Annex
for the stovepipe, which may be possible to use with these other shelter designs.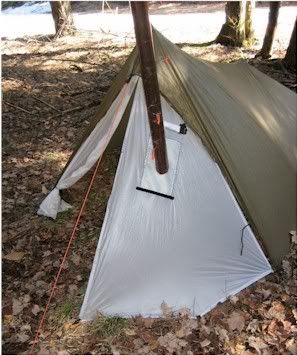 I can ask, in a separate thread, about the
Kifaru stainless steel ParaStove and Small Tipi Stove
(select from drop-down menu near bottom of the page) but it is alright with me if you want to volunteer information about the smaller size wood stoves from Kifaru or from other wood stove makers for that matter. There is also this
Two Dog Stove
:
I already have a Wilderness "ice fisherman's" wood stove in a 16' "hunter's trailer". I already know how to use a wood stove.
I am really interested in purchasing a small wood stove for a "hunter's tent".
Questions:
1. What do you think about these wood stoves for time interval to resupply combustibles?
2. Do you think these wood stoves could be made air-tight?
3. Is there any likely owner-improvements, you see?
4. What stove do you think is the best selection for a 10-12' diameter tipi, like pictured first?
5. Is there a good tipi and stove combination you know? Opinions?