About 20 years ago I was sawing on a black oak tree(Note:Rare tree around here but Asplundh power people had to take it out because of interference with the power lines in a friend's yard,they gave me the downed tree) with a Stihl chainsaw with a 3' bar to get it small enough to get it into my neighbor's bandsaw mill that could only handle 2' wide logs.Unfortunately the large end of the tree was 3' across.I spent quite awhile ripping the 10'long butt end in half to get it somewhat "movable" and "bandsaw-able..After quartersawing the tree into 1"-2" thick slabs,it was stickered and drying here since that time,eventually the slabs were moved into my garage about 10 years ago and I've been whittling on my half of the pile we got out of the tree into cabinet doors and other projects.
My latest project from the tree is far enough along that I can post it now--->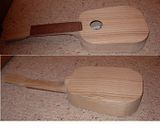 I still need to cut the frets on the fretboard,install those,inlay some dots,add the tuners,make the bridge and install that,finish the dang thing and add some strings..but it's finally starting to look like what it is supposed to.
I've always loved working with wood,especially starting from the "tree" point.This wood after being stickered had to be run through a planer a lot of times down to 3/4" thick(except the one piece neck which had to be whittled down to shape)and to get rid of the bandsaw marks,then run through a table saw to straighten one edge..then run again for the other edge,then run through the tables saw again along both edges as deep as possible..put in a vise and the centers of the three slots cut through with a 3' back saw..to become 3 boards out of one..then run through the planer a whole bunch more down to 1/8" thick,then through a drumsander down to about .070..and ending up about 1/16" or .065 by the time it's done..Yeah..If I had a resawing bandsaw it would save a lot of work but mine is only 6" capacity and not that accurate.Oh well..You have to love working with wood to go through the longer process,but you enjoy the finished product more in the end.
The next step is making up a lot of jigs for doing all the different steps of bending sides,cutting a neck slot to fit the body,molds for the bent pieces to form them around after soaking them,gluing forms,fret cutting box,etc..etc..I plan on making several so I'm making forms for 3-4 different sizes and shapes with at least two different neck lengths(down the road three)..I figure at least a dozen forms,perhaps more.Once the jigs are done,it'll take a lot less time to make one up.
Anyway..Sorry I've been sidetracked ..just letting you know where I've been and why..I figure another week or two and hopefully this project will be finished.I won't rush the project..it's my escape from other things going on in my life right now and enjoyable.Everybody needs something like that.
One more thing..My ukes are based off of dimensions of a Kamaka Soprano and a Gibson tenor ukuleles the wife and I have as far as bracing,thicknesses of wood,shapes,fret layouts, and such so they should (hopefully) turn out to be excellent quality players...The differences will be wood types(but some the same),a little different body shape,maybe longer fretboards and how they incorporate with the bodies(The 60-s-70s kamaka has the frets on the actual neck and not a separate board).This pineapple shape is larger than the soprano kamaka but I want
more sound and a richer tone
.I like the sound of tenors(next uke I build) rather than sopranos.Hopefully I'll get what I'm trying to achieve.It "thumps"(taps) richer..so that's a good sign.