A stove I've read about but never have been able to find one for my collection..until today!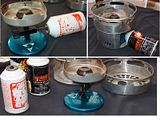 GERRY's Mini-Stove one of the earliest USA canister stoves..supposedly sold only for a few years back in the early 1970s.It came with a couple canisters and the actual potstand/windscreen for the stove.While digging through the old liquidation center I found it in,I found the third canister sitting on one of the shelves by itself.
The canister slides on the pin opposite the valve and lies horizontally.
More about the stove:
http://www.oregonphotos.com/Gerry2.html#anchor2649
Yeah..I know..it's far from mint..but at least
I've got one now
!