Here's a stove idea with variable burn modes.. An Altoids tin with a folding potstand using up to three modular "burners"..smaller than wedding favor tins.Each burner has a capaciy of 1/4 ounce maximum and can give up to about 8 minutes of burn time per unit.A person has a choice of 1,2,or 3 units at once giving you a high(3 units at once),medium(2 units),or low(single burner)..... or a low simmer mode for about 24 minutes(3 units in a row),high to low(2 to 1 units,14-16minutes),low to high 1,then 2,14-16minutes,or 8 minutes of high mode using all three at once...or use only 2 for an 8 minute "almost boil" mode,one for 8 minutes heating cans of coffee...LOTS of variables!
Boils 16 ounces of water in 6 minutes using all three at once(total 3/4oz..or possibly less,using less than a full 1/4oz load in each),an almost boil with two of them(190-200),about 170 degrees with a single unit.
Everything fits inside the altoids tin,including a specially made set of "tweezers" for adding or removing modules while everything is running..a folding simple potstand made of curtain hooks.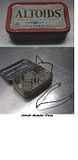 These units are made of rolled fiberglass cloth so no priming is needed,instant heat once you light them.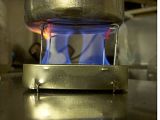 This is made for a larger pot(4-5") than a heincan..but a person could easily shape the potstand smaller to hold one better.
I've only used it on the snow lake trip to heat coffee which it wasn't made for but the can balanced on one end and there wasn't any wind that day so a windscreen also wasn't used.I did light up a second module and tried to toast a sandwich on the potstand..LOL!I'm going to make a higher toaster shelf for that purpose.Some of the bread stuck to the potstand but did burn off and it did get a little toast.I might try and combine a windscreen/toast holder at the same time..maybe something full of holes to toast the bread while the bread blocks the wind..
Works great!The modules do have jb weld on the threads of the caps.For size reference,each module is 11/16" high and 1-1/4" across.