Fathersday Limited Offer on Budlyte "Super Stoves"
I was able to make up a couple of dozen stoves using Budlite Bottles. Sale will continue till all are sold.
This stove is made from an aluminum beverage bottle. It's a 1 piece stove, no pot stand needed.
When 1/2 ounce of fuel is used this stove has the ability to absorb and hold the fuel as a safety feature. If the stove is accidentally tipped over the fuel will not spill out.(Just like the StarLyte)
This stove is a compilation of features found in several different stoves that I have made over the years. The StarLyte, Fancee Feest, Cobalt and Cobalt Blue.
SPECIFICATIONS:
Fuel capacity - 1 ounce - 30ml
Weighs 1.3 ounces
Will boil 2 cups of water under optimum conditions using 1/2 ounce of denatured alcohol and a 2.5 cup aluminum pot.
Material - Heavy duty aluminum beverage bottle
Recommended fuels - HEET in yellow bottle, Denatured Alcohol, "Meths" (outside the U.S.A.)
Price for 2 stoves, 2 4oz fuel bottles with flip top caps that can also be used on the HEET yellow bottle alcohol fuel.= $20.00 + $4.50 for shipping and handling- Total Cost $24.50
For more information and paypal payment go to:
http://www.woodgaz-stove.com/fathers-day-limited-
Some vintage photobucket videos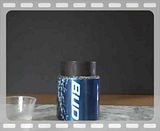 .